CONFIRMED RELEASE FROM ATLAS EDITIONS
I can confirm that the following model has now been released. Many thanks to Graham Halford and Robert Frowen for advising me. My model also arrived today:
4664114 Liebherr A900ZW Road/Rail Excavator - Stobart Rail
Fleet number W041

I hope to publish photos over the next few days.

I have also received an unconfirmed report that the World of Stobart collection is being extended by a further 10 models and that they will be proceeding with the 1:14th model as previously reported.

Monday 12th March 2016
---
CONFIRMED RELEASE FROM OXFORD DIECAST
I can confirm that the following model has now been released and is on sale:
76SHL15WF Stobart - William Buick CLICK HERE

Friday 18th March 2016
---
OXFORD DIECAST MODELS SCHEDULED FOR RELEASE
Many thanks to Dan at Jacksons Models for advising me that they take stock of the following model tomorrow:
76SHL15WF Stobart - William Buick CLICK HERE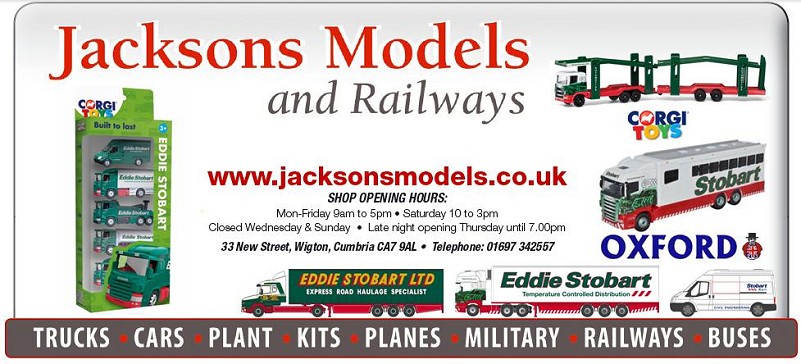 Thursday 17th March 2016
---
CONFIRMED RELEASES FROM OXFORD DIECAST
I can confirm that the following models have now been released and are on sale:


76SHL14WF Stobart - Hayley Turner

CLICK HERE


76FTC006 Ford Transit Connect - Stobart Air Reg. PX12 AZO, Fleet LSA26 CLICK HERE

CONFIRMATION OF STOCK CODE FOR ATLAS EDITIONS MODELS
Further to my news of 17th February, I can confirm that the stock code for the Mecalac Excavator is: 4664112

Monday 29th February 2016
---
CONFIRMED RELEASE FROM ATLAS EDITIONS
I can confirm that the following model has now been released, many thanks to Rob Frowen for the photographs:
Stock code: To be confirmed
Mecalac 714MW RR Excavator
Fleet number: W060
Photograph 1 CLICK HERE
Photograph 2 CLICK HERE
Photograph 3 CLICK HERE
Photograph 4 CLICK HERE
Photograph 5 CLICK HERE
Photograph 6 CLICK HERE

2nd posting Wednesday 17th February 2016
---
TWO OXFORD DIECAST MODELS SCHEDULED FOR RELEASE
Thank you to Dan at Jacksons Models for advising me that the following two models are scheduled for release later this week/early next:
76SHL14WF Stobart - Hayley Turner

CLICK HERE


76FTC006 Ford Transit Connect - Stobart Air Reg. PX12 AZO, Fleet LSA26 CLICK HERE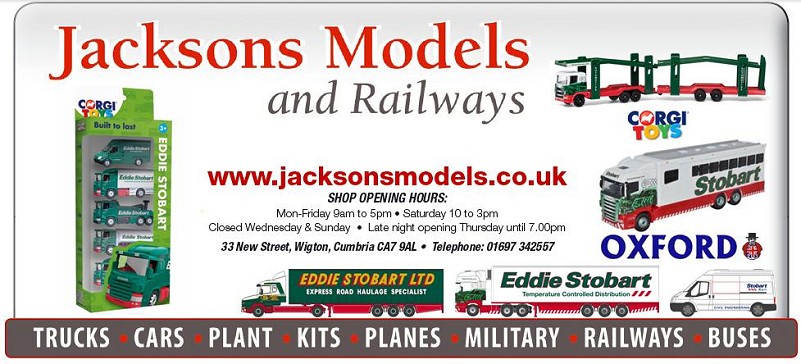 Wednesday 17th February 2016
---
NEW HUGE 1:14TH SCALE EDDIE STOBART MODEL FROM ATLAS EDITIONS
Many thanks to Peter Wiemken from Germany who sent me the attached photograph of a flyer in a magazine. It appears to be a 1:14th scale model which you build yourself as a kit. I am not sure of any other details. CLICK HERE to view the photograph.
I have just phoned Atlas Editions to order the first part to have a look at it to be told they could not take an order on their order line and I had to speak to their Customer Service line (only open Monday to Friday).
If anyone has any luck with Atlas Editions can they please email me. As you know my recent relationship is not that successful with them taking 7 months to send me the first model in the World of Stobart collection!
Saturday 6th February 2016
---
PHOTOGRAPHS OF PREVIOUSLY RELEASED MODELS
Click on the links below to view photographs of two previously released models:
Oxford Diecast - NIRZ004 Scania Irizar - Eddie Stobart
Photograph 1 CLICK HERE
Photograph 2 CLICK HERE
Atlas Editions - 4649141 Scania R440 Steady Eddie
Photograph 1 CLICK HERE
Photograph 2 CLICK HERE
Photograph 3 CLICK HERE
Monday 1st February 2016
---
CONFIRMED RELEASE ATLAS EDITIONS WORLD OF STOBART COLLECTION
I can confirm that the following model has now been released. Many thanks to Andi Brigham for the photographs:
4664511 Morooka Carrier - Stobart Rail
Fleet number: W019
Photograph 1 CLICK HERE
Photograph 2 CLICK HERE
Photograph 3 CLICK HERE
ATLAS EDITIONS WORLD OF STOBART PROPOSED RELEASES
A list of models proposed for the collection has been received this morning from Atlas Editions CLICK HERE to view
PHOTOGRAPH OF MAN 4 WHEEL RIGID "SAMMY SHAMMY" ADDED TO GALLERY PAGES:
Again many thanks to Andi Brigham for sending me a photographs of fleet number F1521 which I have added to the Gallery pages, CLICK HERE to view
Saturday 30th January 2016
---
CONFIRMED RELEASES FROM OXFORD DIECAST
I can confirm that the following models have now been released:
76SHL12WF Stobart James Doyle CLICK HERE
76SHL13WF Stobart Luke Morris CLICK HERE
Wednesday 27th January 2016
---
DETAILS OF OXFORD DIECAST MODELS ANNOUNCED OVER THE WEEKEND
Oxford Diecast have today advised me of the vehicle details for the new models:
76FTC008 Ford Transit Connect Eddie Stobart CLICK HERE
Fleet number: -
Registration number: PJ55 UOA
Name: -
76KRS005 Konecranes Reach Stacker Stobart (Red) CLICK HERE
Fleet number: -
Registration number: -
Name: -
76SCA04HB Scania Topline Horsebox A W Jenkinson CLICK HERE
Fleet number: -
Registration number: 400 AWJ
Name: -
76SHL01ST Scania Highline Nooteboom 3 Axle Semi Low Loader Stobart Rail CLICK HERE
Fleet number: RV232
Registration number: PX58 BNA
Name: Nicola Melissa
76SHL04WF Scania Highline Walking Floor Stobart Ascot Champions Day CLICK HERE
Fleet number: H8382
Registration number: PX64 TXG
Name: Tanya Louise
NSHL01CT Scania Highline D-TEC Combitrailer - Container Eddie Stobart CLICK HERE
Fleet number: H6443
Registration number: PO12 ZNF
Name: Olave St Claire
NVOL4001 Volvo FH4 Curtainside Eddie Stobart CLICK HERE
Fleet number: H4948
Registration number: KR13 VYD
Name: Phoebe Grace
Tuesday 26th January 2016
---
7 NEW MODELS ANNOUNCED BY OXFORD DIECAST
Oxford Diecast have announced 7 new models over the weekend and also released the latest photograph of the car transporter (Taff from Oxford described it as still work in progress). I will hopefully be able to get the vehicle details from Oxford during this week:
76FTC008 Ford Transit Connect Eddie Stobart CLICK HERE
76KRS005 Konecranes Reach Stacker Stobart (Red) CLICK HERE
76SCA04HB Scania Topline Horsebox A W Jenkinson CLICK HERE
76SHL01ST Scania Highline Nooteboom 3 Axle Semi Low Loader Stobart Rail CLICK HERE
76SHL04WF Scania Highline Walking Floor Stobart Ascot Champions Day CLICK HERE
NSHL01CT Scania Highline D-TEC Combitrailer - Container Eddie Stobart CLICK HERE
NVOL4001 Volvo FH4 Curtainside Eddie Stobart CLICK HERE
76SCT001 Scania Transporter -Stobart Automotive - To view the latest pre-production photograph CLICK HERE
Monday 25th January 2016
---
OXFORD DIECAST LAUNCH NEW WEBSITE
Oxford Diecast have today launched a new version of their website. It can be found at www.oxforddiecast.co.uk
Friday 15th January 2016
---
CONFIRMED RELEASE FROM ATLAS EDITIONS
Thank you to Simon Dixon for advising me of the release of another Atlas Editions model. Thank you to Gordon Campbell for the photograph:
4664509 Gloster Saro Javelin RSV - Stobart Air London Southend Airport
Photograph 1 CLICK HERE
Fleet number: 4 LSA044
Registration number: E694KFH

CONFIRMED RELEASES FROM OXFORD DIECAST
I can confirm that the following models have now been released and are on sale:
76SHL11WF Stobart - Andrea Atzeni CLICK HERE
NIRZ004 Scania Irizar - Eddie Stobart CLICK HERE - Photograph shown is of the 76th scale model which is identical to this one

ATLAS EDITIONS AIRCRAFT DE-ICING RIG LONDON SOUTHEND AIRPORT - ADDITIONAL PHOTOGRAPHS
Further to my news of 2nd January, click on the links below to view additional photographs of the model courtesy of Robert Frowen
4664010 Scania P230 Aircraft De-Icing Rig - London Southend Airport
Photograph 1 CLICK HERE
Photograph 2 CLICK HERE
Photograph 3 CLICK HERE
Photograph 4 CLICK HERE
Photograph 5 CLICK HERE

Tuesday 12th January 2016
---
MORE OXFORD DIECAST MODELS SCHEDULED FOR RELEASE
Further to my news of Monday, Jacksons models have advised that there are two further models scheduled for release next week:
76SHL12WF Stobart - James Doyle CLICK HERE
NIRZ004 Scania Irizar - Eddie Stobart CLICK HERE - Photograph shown is of the 76th scale model which is identical to this one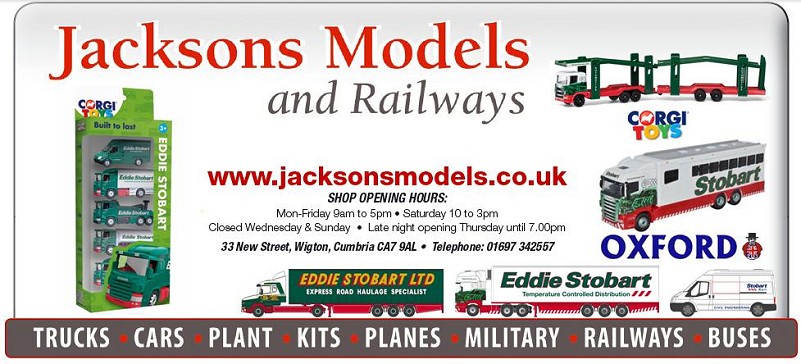 Wednesday 6th January 2016
---
OXFORD DIECAST MODELS SCHEDULED FOR RELEASE
Oxford Diecast have advised me that the following model is scheduled for release next week (week commencing 11th January):
76SHL11WF Stobart - Andrea Atzeni CLICK HERE

Monday 4th January 2016
---
HAPPY NEW YEAR
I would like to take this opportunity of wishing you all a very happy and healthy New Year. I would also like to thank everybody who has contributed to the website during the past year, all contributions are always very much appreciated.

CONFIRMED RELEASES
The following models were released just before Christmas:

Atlas Editions
4664010 Scania P230 Aircraft De-Icing Rig - London Southend Airport
Photograph 1 CLICK HERE
Photograph 2 CLICK HERE
Photograph 3 CLICK HERE
Fleet number: LSA080
Name: Cand-Ice

Corgi Classics
CC13775 Scania R Highline, Fuel Tanker, Eddie Stobart CLICK HERE

Oxford Diecast
76SHL10WF Stobart - Graham Lee CLICK HERE

The following models are shown in stock on the Stobart Shop website but have not yet gone on general release:
76SHL11WF Stobart - Andrea Atzeni CLICK HERE
76SHL12WF Stobart - James Doyle CLICK HERE

Saturday 2nd January 2016
---